Gematombe
A downloadable game for Windows, macOS, and Linux
The current Demo version of "Gematombe - Pandora's Legend" it's on apha state, with temporary artwork and game mechanics that may change in the future.

The game can be played with Controller or with a Mouse.

"Gematombe - Pandora's Legend" is a brick breaking puzzle-action game, where the player takes the role of the mythical character of Pandora, with the mission of recapturing all the evil daemones that where freed in to the world.
"Gematombe - Pandora's Legend" is a game produced and developed by "Evilcorp Games", a team of indie game developers in Santiago, Chile. Gematombe is also movile game and can be downloaded through the Playstore for Android devices.
Brick Breaking Puzzle-Action Game.
"Gematombe - Pandora's Legend" presents a completely unique and refreshing game style.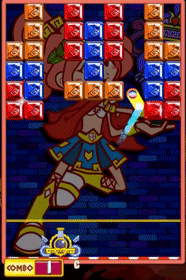 As gameplay, Gematombe is characterized by merging two types of video games; bubble breaking and brick breaking games. Players must break the gems in the level by bouncing the ball with his paddle in order to find the goal-gem and move to the next level. As the main mechanic of the game, if the player's ball break a gem, the next consecutive gem the ball destroys, will also destroy all adjacent gems of the same color, thus creating a "combo".
Each character has a special habilities/techniques that can be used to help you clear a stage in the story mode or to atack your oponent during the VS mode.
We plan to add more characters to the game as the work progresses. In the meanwhile we present you a few of the characters of the game.
| | |
| --- | --- |
| Published | Nov 10, 2016 |
| Status | In development |
| Platforms | Windows, macOS, Linux |
| Rating | |
| Author | Route5Games |
| Genre | Puzzle |
| Tags | 2D, Anime, Arcade, Colorful, Controller, Cute, Fantasy, Female Protagonist, Funny |
| Average session | A few minutes |
| Languages | English |
| Inputs | Keyboard, Mouse, Gamepad (any) |
| Accessibility | Configurable controls |
| Multiplayer | Local multiplayer |
| Player count | 1 - 2 |
Download
Click download now to get access to the following files:
demo-gmtb-alpha2-linux.zip
158 MB
demo-gmtb-alpha2-win.zip
147 MB
demo-gmtb-alpha2-osx.zip
199 MB
Comments
Log in with your itch.io account to leave a comment.
Hello, Yes, ther is a way to change the sensitivity. While in the character selccion screen, you can adjust de number in the lower area of the screen to increase or drecrease the sensitivity using your mouse. When using a gamepad, use the right analog stick to change that number.

I really liked the art work and clearly it looks like a lot of work has been put into the game so I thought i'd mention my experience. Despite there being a 3 page instructional the game doesn't seem to really read well. Maybe it's just me but I was confused on how you lose and a lot of things were going on quickly at once, which isn't necessary a bad thing, it just doesn't seem to be self-evident from play itself. I'm not really a heavy puzzle game player (last couple of puzzle games I can remember playing were puzzle kombat, tetris battle, and puzzle pirates) so maybe its just me. Look forward to your future games or how you continue with this one. Thanks.
Thanks for your feedback. We will try to make changes to make the game system clearer, and we agree with you that the defeat condition is not so intuitive at first.
Our intention is that the game is something quick in his actions, but we will try to make it clearer.
thanks for your support.
Hiya! Just tried out the demo, and I gotta say, love the concept. It played smoothly, but it seemed there was a lack of an implemented end condition. Either that, or the AI is too good/it doesn't have much ramp up to prevent stalemates. Keep up the good work!
Thanks for trying the game out, the match ends when a gem hits the paddle but the IA right now is very basic so it just follows the ball and hits it with an angle, so is kinda random when it plays well or don't. We hope you look forward to future updates as we fix more things up including the IA.
I really like the music and character design but I couldn't play the Alpha. My mouse cursor kept disappearing and my keyboard actions didn't seem to register. I have a touch screen on my PC it didn't always register my click events. Maybe you could do a debug build with Node Webkit? Or at least not hide the cursor. Also it looked like you were a couple of version behind on Node Webkit.
Thanks for commenting, we're updating NWJS and making more clear how to play with the keyboard, the game right now is designed to work with a physical mouse, sadly we don't have a touch screen to test but we'll see what we can do in the future.