Gematombe
A downloadable game for Windows, macOS, and Linux



The Puzzle Fighting Game that will revolutionize the genre in all senses!
Blast through more than 60 levels packed with puzzle action and adventure. Help Pandora, the all-gifted heroine, in her wonderful adventure to capture all the evils that were released in our world!
Complete all story modes and get yo know a little more of all the charismatic characters this game has for you!

- 6 base characters
- Story mode
- VS mode
- Local/couch multiplayer
-Endless mode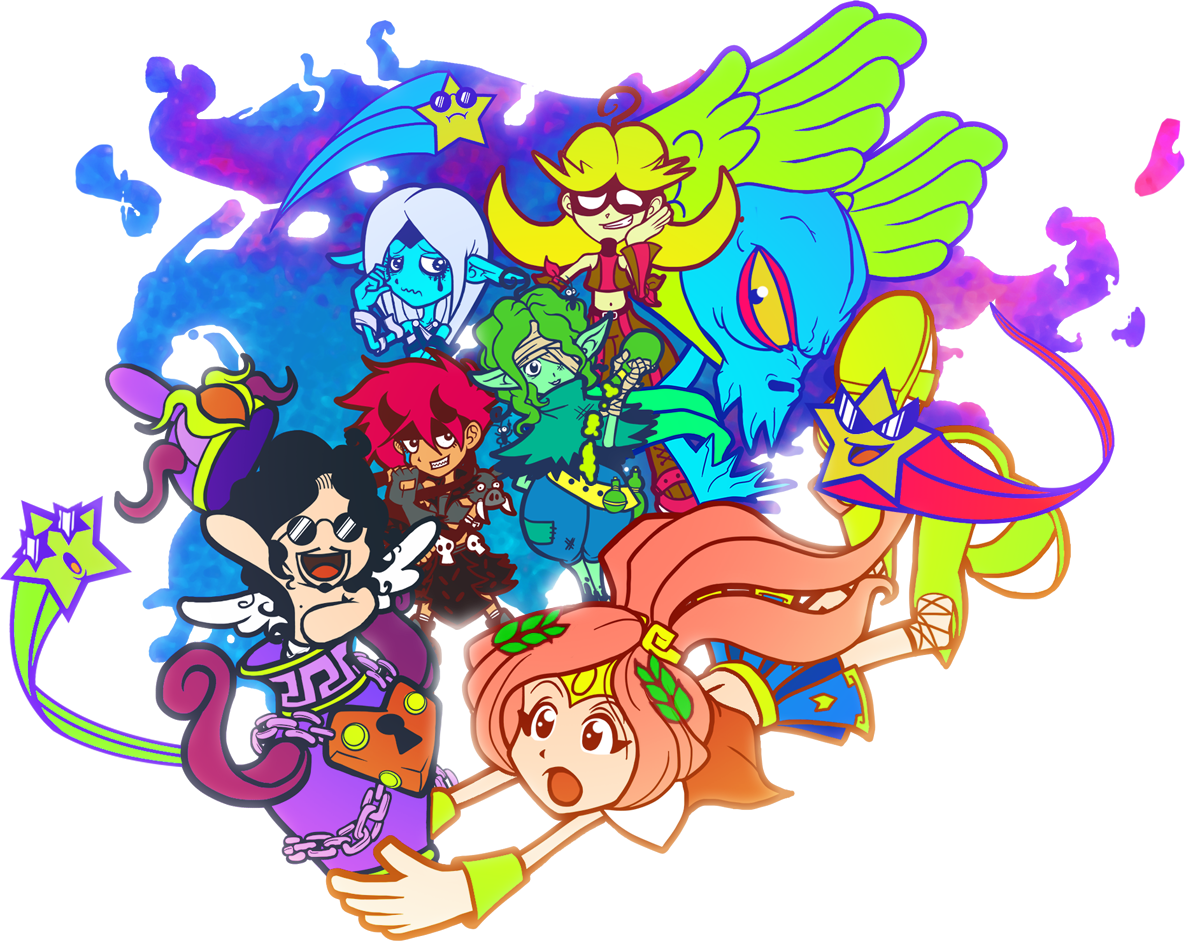 Gematombe is an action-puzzle-vs-game where you can play one-on-one matches against your friends or the computer.
The story and characters on Gematombe are basen in the greek legend Pandora and her box/jar.
You can try and play our FREE GAME DEMO to get a general idea of the game, the music, the mechanics and story.

The BASE GAME that we have worked so far contains:
VS mode local - Engage your friends in puzzle battle action! In this classic couch versus mode, you select the stage and the contenders to settle a winner in a race for the first Gematombe! Who's the best? Find it out!
Story mode - Pick a Character and start your journey to capture all the daemons back to the jar or to wreak havoc across the world! In this mode you have 6 campaigns packed with funny cut-scenes between battles!
Endless mode - In this mode you will fight in an endless stage, to find how long can you stay alive with no other opponent than yourself!
Survivor mode - Fight your way against randomly selected enemies! Try to get as far as you can, cause they will keep coming for you!
6 characters - The game so far has a cast of 6 characters, Pandora The Hope, Adicia The Injustice, Nosi The Plague, Apate The Deceit, Ania The Sorrow, Khaos The Chaos and one secret Character to discover












We are Route 5 games, a small independent video games developing team from Santiago, Chile, South America. Our company is conformed by 3 members, and we 3 are the developers of Gematombe.
We are:
Cristobal Muñoz (lead programer and video games designer)
Diego Cereceda (lead artist and video games designer)
Pablo Prado (level designer and video games designer)
All 3 of us are professional. We met when we were studying video game design at an institute and we have worked together in a few other small projects.
Some of the other games we have worked on, where under our former company name "Evilcorp games". While in that company we were part of a little bit bigger crew of 5 members and we worked on 3 games for Android devices and we release them in the "play store" of google.
You can check out our other games by clicking on them or check our website to know more!
Gematombe is our first PC game project and we have put all our abilities on it!

Donations are not the only way to help us with this project. Share the news of this campaign and keep and eye open for the release of the full game. Talk about this game with your friends or to other people who may be interested in this project.
Follow the team and the game on our social pages as give us your love!
| | |
| --- | --- |
| Status | In development |
| Platforms | Windows, macOS, Linux |
| Rating | |
| Author | Route5Games |
| Genre | Puzzle |
| Tags | 2D, Anime, Arcade, Colorful, Controller, Cute, Fantasy, Female Protagonist, Funny |
| Average session | A few minutes |
| Languages | English |
| Inputs | Keyboard, Mouse, Gamepad (any) |
| Accessibility | Configurable controls |
| Multiplayer | Local multiplayer |
| Player count | 1 - 2 |
Download
Click download now to get access to the following files:
Windows_32x-64x.zip
298 MB
GematombeDEMO_osx64.zip
162 MB
Comments
Log in with itch.io to leave a comment.
¿Piensan lanzarlo algún día en Steam?

Definitivamente! Ahora mismo estamos subiendo un DEMO actualizado a la ultima versión para descargar aquí en itch.io y dentro de los próximos días lanzaremos una campaña de crowdfunding en indie gogo para poder financiar la versión final del juego.
aun así LANZAREMOS LA VERSIÓN BASE DEL JUEGO EN STEAM A MEDIADOS DE AÑOS independientemente de si la campaña en indiegogo se funda o no.
Muchas gracias por añadirnos a tu lista!
ya hemos lanzado nuestra campaña en indiegogo para poder desarrollar mas contenido para el juego final. Agradeceríamos si pudieses apoyarnos donando o compartiendo la pagina de la campaña.

The sensitivity, when using a gamepad, is unplayably high. Is there a way to lower it?
Hello, Yes, ther is a way to change the sensitivity. While in the character selccion screen, you can adjust de number in the lower area of the screen to increase or drecrease the sensitivity using your mouse. When using a gamepad, use the right analog stick to change that number.

I really liked the art work and clearly it looks like a lot of work has been put into the game so I thought i'd mention my experience. Despite there being a 3 page instructional the game doesn't seem to really read well. Maybe it's just me but I was confused on how you lose and a lot of things were going on quickly at once, which isn't necessary a bad thing, it just doesn't seem to be self-evident from play itself. I'm not really a heavy puzzle game player (last couple of puzzle games I can remember playing were puzzle kombat, tetris battle, and puzzle pirates) so maybe its just me. Look forward to your future games or how you continue with this one. Thanks.
Thanks for your feedback. We will try to make changes to make the game system clearer, and we agree with you that the defeat condition is not so intuitive at first.
Our intention is that the game is something quick in his actions, but we will try to make it clearer.
thanks for your support.
Hiya! Just tried out the demo, and I gotta say, love the concept. It played smoothly, but it seemed there was a lack of an implemented end condition. Either that, or the AI is too good/it doesn't have much ramp up to prevent stalemates. Keep up the good work!
Thanks for trying the game out, the match ends when a gem hits the paddle but the IA right now is very basic so it just follows the ball and hits it with an angle, so is kinda random when it plays well or don't. We hope you look forward to future updates as we fix more things up including the IA.
I really like the music and character design but I couldn't play the Alpha. My mouse cursor kept disappearing and my keyboard actions didn't seem to register. I have a touch screen on my PC it didn't always register my click events. Maybe you could do a debug build with Node Webkit? Or at least not hide the cursor. Also it looked like you were a couple of version behind on Node Webkit.
Thanks for commenting, we're updating NWJS and making more clear how to play with the keyboard, the game right now is designed to work with a physical mouse, sadly we don't have a touch screen to test but we'll see what we can do in the future.